Regular price
Sale price
$21.97
Unit price
per
Sale
Sold out
Camille Morris shares her experience and amazing result after using NeoCare Anti Ankle Edema Socks!
"I tried these not anticipating a difference but at the end of the day I observed a significant reduction in the swelling. I have been experiencing problems with swollen feet or what you would term foot edema. It was comfortable to wear the socks all day because they did not feel restricted. I was astonished to discover that after wearing this sock, my feet had returned to normal. Decided to wear this socks every night from now on! It's a bug help plus very relaxing."
Advance Compression Technology
We thought the secret to a happy existence was living painlessly with complete mobility. We can help you with everything from pain treatment to foot support to an ankle stabilizer to injury prevention! With NeoCare Anti Ankle Edema Socks, you'll always feel better.
What do you suffer from?
Whatever you suffer from, Find your relief today with the help of NeoCare Anti Ankle Edema Socks. Feel the Difference Instantly!  Our NeoCare Anti Ankle Edema Socks will support your feet 24/7.
How does NeoCare Anti Ankle Edema Socks works?

The NeoCare Anti Ankle Edema Socks  0-30 mmHg Tightest at the ankle  generate heat without the use of an external energy source, such as electricity. More than 2,800 reflexology points on your foot are stimulated. This tourmaline socks for acupressure uses infrared heating, magnetic treatment, and absinthe therapy to stimulate acupoints while also massaging the user's legs in a variety of directions. It successfully stimulates the body's blood and lymph circulation to treat foot edema, varicose veins and lessen body fluid retention, and decrease cellulite.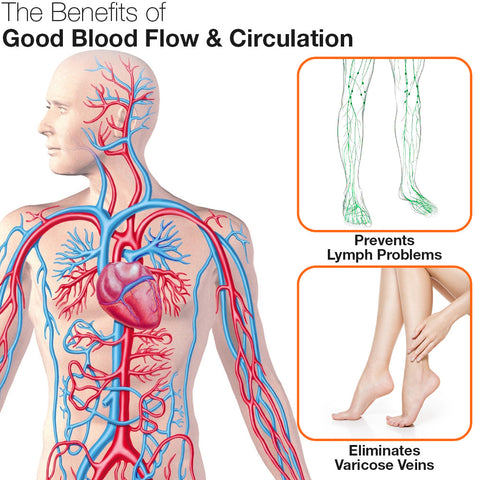 What is Tourmaline Therapy?
The electromagnetic spectrum's infrared portion includes tourmaline. In order to reach deep muscle tissue, tendons, nerves, blood vessels, and ligaments, far infrared rays must first pass through 16 millimeters of human subcutaneous tissue. Once there, they can help to repair damaged cells, expand microvessels, promote blood circulation, activate enzymes, and quicken the metabolism of blood and cell tissues. This is accomplished by warming up the body and promoting activity even while you are not exercising. It also improves blood flow, circulation, and the body's synthesis of hormones and enzymes, all of which are crucial for promoting fat burning and weight reduction.
Self-Heating Magnetic Technology
Magnets have a favorable impact on the entire body, according to research, and they boost the manufacturing of amino acids. Magnets increase metabolism and support healthy bodily function. They provide the quickest possible delivery of oxygen and nutrients to the wound to aid in healing. Magnetic waves are released by NeoCare Anti Ankle Edema Socks from nerve terminals in the foot that are linked to the entire body.
In order to minimize swelling, NeoCare Anti Ankle Edema Socks improve blood flow from the legs back to the heart. This is a well-known and successful therapy for edema. These are made to provide pressure on the lower legs, which helps to maintain blood flow and lessen pain and edema.
The advantages of having healthy blood flow and circulation extend to other sections of your body when they are operating at their best. And our socks actually do that. They increase blood flow and circulation, which also aids in preventing or curing varicose veins and lymphatic obstructions for better overall health.
What makes NeoCare Anti Ankle Edema Socks Special? 
Prevent rolled and sprained ankles

Better blood flow for better health

Recover from heel, arch or foot soreness

Designed with highest quality fabric

All Day support and relief

Durable and easy to wash
Here are some of our happy customers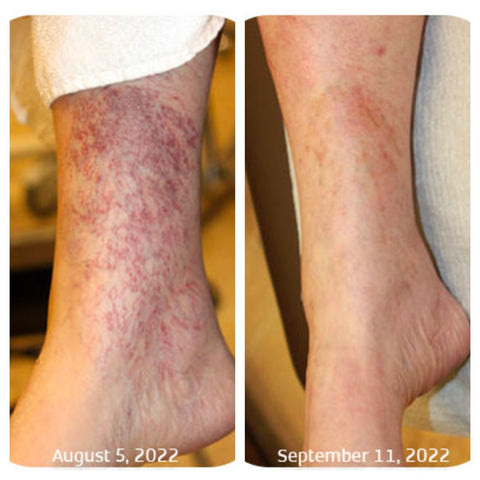 "They considerably lessen the discomfort from my severe varicose veins and neuropathy in my feet and ankles, which I enjoy. They are also more convenient to put on than other shoes I have tried and comfortable—not too tight. They are currently being purchased by both my spouse and my cousin. It significantly reduces my varicose veins." - Karen Murphey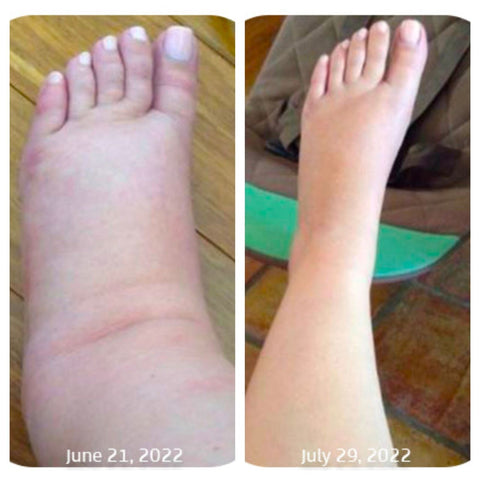 "These support socks give your foot the impression of receiving a bear hug. They give me the support I require and are pleasant to wear all day long for eight hours. Due to excessive blood pressure, I have ankle and foot swelling more frequently than I would want. These are a huge help when my ankles swell. Despite the fact that I don't have plantar fasciitis, they were comfy and helped with the swelling. No slicing my feet or legs." - Demi Lowen
Package Details
Package Includes
1 x NeoCare Anti Ankle Edema Socks
Style: 1Pair, 4Pairs, 8Pairs (S, M, L, XL)
WHAT MAKES NEOCARE ANTI ANKLE EDEMA SOCKSA GREAT CHOICE?
✅ Relieve Foot Pain: Our plantar fasciitis compression socks are perfect for relieving your foot pain – whether from plantar fasciitis, heel pain, arch pain, foot injury, and achilles tendonitis.

✅ All Day Comfort: Our socks are very comfortable, lightweight, and breathable so that you can wear them all day on your feet and also at night if you prefer! Your feet will feel amazing the next day and even in the morning.

✅ Decrease Swelling and Fatigue: Our plantar fasciitis socks provide targeted compression throughout your foot to help reduce nagging swelling and fatigue by improving blood flow and providing arch support.

✅ Customer Recommended: Our socks are highly recommended by repeat customers who come back to buy another pair after trying them. We also offer several different colors, too!

✅ Perfect Fit: Refer to our size chart to determine the best size for you. We offer four sizes so that our socks can perfectly fit your feet/arch. We do recommend measuring your arch circumference.

👑ABOUT US

 

For each piece of our product purchased, we donate a portion of our profit to support the Cruelty-Free International organization, which helps to promote the protection of animals and end animal cruelty around the globe. By purchasing our product, you are supporting our cause to build a more animal-friendly beauty culture. Don't hesitate to contribute your passion for that. 

SHIPPING

We ship worldwide
If you have any questions, please contact our customer servicestaff member for assistance!

OUR GUARANTEE

📦 Insured Worldwide Shipping: Each order includes real-time tracking details and insurance coverage in the unlikely event that a package gets lost or stolen in transit.
💰 Money-Back Guarantee: If your items arrive damaged or become defective within 15 days of normal usage, we will gladly issue a replacement or refund.
✉️ 24/7 Customer Support: We have a team of live reps ready to help and answer any questions you have within a 24-hour time frame, 7 days a week.
Share
View full details
Helps with swelling
I get swelling in my ankles and feet from high blood pressure more often the I would like. My ankles get swollen and these help tremendously! I don't have plantar fasciatis but they helped me for the swelling, and they are comfortable. No cutting into my legs or feet.
These socks made a significant difference
I developed a screaming case of plantar fasciitis from wearing the cute sandals all day on concrete three days in a row. Ouch. I tried several types of inserts which only helped slightly. But these socks really helped!! I'm surprised how much relief from the pain I get from these. I'm so grateful I found something that worked. We'll made, provide great support. I'll probably continue to wear them after plantar fasciitis heals just for the support as a preventive measure.
Feeling Better
I didn't expect much other than the ability to wear my flip flops with socks and that's about it. I was happily surprised when I put these on. I am a 7½ - 8½ women's (US) shoe size with a wide width (I have what I call duck feet - narrow at the heel, wide at the toes). The small / medium fits snuggly while being comfortable. I stand heavily on my heels, which I noticed when I used an anti-fatigue mat. My heels hit the floor while my husband said the mat bore his weight nicely (he's 60 lbs heavier than me).
Flash forward 30-some years and I'm saddled with arthritis and my heels are beginning to feel über tight in the morning to the point that I waddle the first five or so steps until the heels loosen up. I figured I'd give these socks a whirl during a lightning deal offer and I'm glad I did. This is the first day I've had them and I put them on immediately (of course). I've been on my feet most of the day and I have to say I am feeling pretty darn good. I have a rising desk and I normally stand 85% of the day. My back and neck thank me for it, my feet curse me. Today everyone was quiet and I stood 100% of the day (I'm still standing as I type this, in fact). I really really Really didn't think these socks were going to work as well as they did.
Another note - I normally get edema (swelling) of the feet at night, but tonight it's been kept at bay. I've been wearing the socks for 7 hours, including the 2 hours I removed them (9 hours otherwise). I'm strongly considering ordering 2 more pairs so I can rotate them on wash days; however, I want to give it a few more days to ensure this wasn't a beginner's luck or mind over matter deal.
They do feel a wee tight towards the toes and I attribute that to my wide foot. The rest of my foot feels great.
Let me also say this - I do Not give 5 stars easily. My good rating is a 3 and my great is a 4. Excellent is a 5. 3 stars means a product does exactly what it's intended to do, nothing more, nothing less, and so a 3 is still a good rating. A product has to not only do what it's supposed to, it has to go above and beyond expectation to garner 5 stars. This product does that. I can't stress strongly enough that I expected these to be a toeless sock and nothing more. Being pain-free for the remainder of the day warranted the 5 star rating. If anything changes in the days to come I'll adjust and comment, but as of right now I'm amazed that I'm feeling so good. I did Not receive this item for free, nor did I receive it in exchange for a review, and though I did snag it through a lightning deal I paid for it with real money that I spent real hours working for. This is a review for the pink socks.
My pain was relieved.
I had a surgery a year ago and still having problems with the feet stability and a lot of pain and swelling in the area where the screws were placed. The feeling is as if there is no meat. With these stockings the pain and swelling were relieved. I want one pair for each day.
Good medicine
These are really really nice! I have osteoarthritis in my left ankle/foot and this really helps in combination with my Alabama brace! For the first 24 hours I literally forgot I had any pain or discomfort in that foot and that was amazing! I'll be using this brand from now on and very happy to great prices as well can't beat it!
24/7 Support

You can reach our support anytime through contact@pop-living.com

Worldwide Shipping

We ship almost everywhere in the world.

100% Satisfaction

We will do everything to make sure you enjoy and love our products