Regular price
Sale price
$24.97
Unit price
per
Sale
Sold out
Robert Dewis shared his experience and result after using the Mr. Feet Inner Circulation Acupoint Massage Insole!
"They work wonders to ease your feet's stiff, worn-out muscles. My severe varicose veins were greatly improved by this massage. I could feel it assisting with blood flow in the vein. I'm happy with the current visible outcomes. Since I've started using this lotion practically daily, I've seen a noticeable reduction in the visibility of veins and swollen feet."
Targets Reflexology Acupoints
What is Magnetic Physiotherapy?
Magnetic therapy is a type of physical therapy during which the body is exposed to a low frequency magnetic field. Cells and colloidal systems in the body contain ions that can be affected by magnetic forces.
Round magnetic points are located in the foot of the Acupoint Massage Insolet. Reflexology insole massage your feet without overstimulating them. Made with magnets that increase vein circulation, ease pain and weariness, reduce leg cramps, and promote blood flow.
How does Mr. Feet Inner Circulation Acupoint Massage Insole works?
The Mr. Foot Inner Circulation Acupoint Massage Insole uses massage points and unique magnets to target specific parts of your feet. Produce soft magnetic waves with 8 cooling magnets, natural magnetic fields, and cooling, smooth stones! It aids in balancing the energy in your body to lessen stress, enhance energy, harmonize mind and body, and speed up metabolism and fat breakdown.
Magnetic Massage Insoles
Your foot's more than 2,800 reflexology points are activated. The modest magnetic field produced by the Mr.Feet Inner Circulation Massage insole can induce the tiniest blood vessels in the body to expand or constrict, enhancing blood flow and reducing inflammation, two important aspects of the healing process.
Stimulates Lymphatic System Through Soles
A foot massage using reflexology treatments can be very beneficial. It can enhance lymphatic drainage, increase blood circulation, reduce localized discomfort, and calm the entire body by relieving tension. By activating the lymphatic system, it can aid in the body's "detoxification" and decrease edema.
Detoxifies Body
Acupressure acts as a natural diuretic and aids in the body's toxin elimination through the kidneys, colon, skin, and other urine-cleansing organs. Recent research have shown that it may be able to cleanse the body of pollutants, chemicals, alcohol, and drug use.
Whats makes Mr. Feet Inner Circulation Acupoint Massage Insole special?
Cleans Clogged Arteries - Boost blood flow for a robust vascular system and eliminate varicose veins.
Reduces Leg Edema – Helps to reduce swollen muscles and nerves.
Cleanse Lymphatic Drainage -  Aids in clearing toxins from the lymphatic system and aids in its purification and cleansing.
Foot Reflexology - Reflexology involves massaging acupoints on the foot to release blockages in people's meridians.
Improve metabolism - Addresses adipose tissue accumulation and weight gain.
Here are some of our happy customers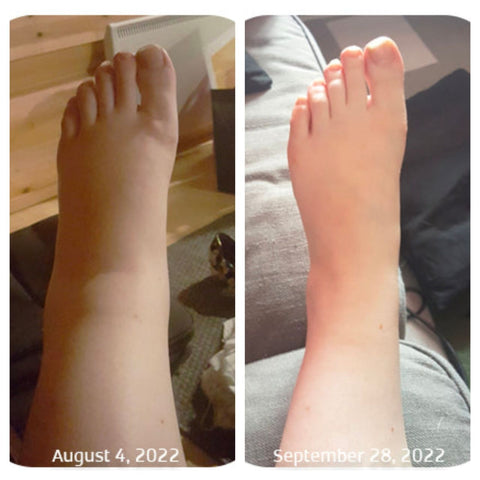 "I've endured years of discomfort and suffering as a result of the edema in my foot. Thank God I found these insoles because they are the one thing that has made a difference in my life. It not only helped me lose weight, but it also treated my edema, which is quite beneficial to me. Additionally, I've found that I'm more active than I was previously; perhaps this stuff has purifying properties as well. But altogether, this has helped me to feel at ease, whole, and content. I'm grateful. " -  Flora Stanley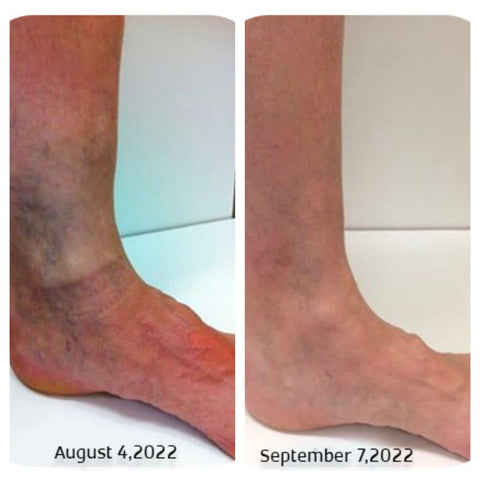 "After wearing it for a while, my varicose veins were growing smaller and smaller until they were entirely gone. I'm forever grateful for this fantastic product! "I still couldn't believed that a simple pair of insoles were the cure to my varicose vein problems. My feet looks a lot better now than before" - Mikael Lawrence
 Product Detail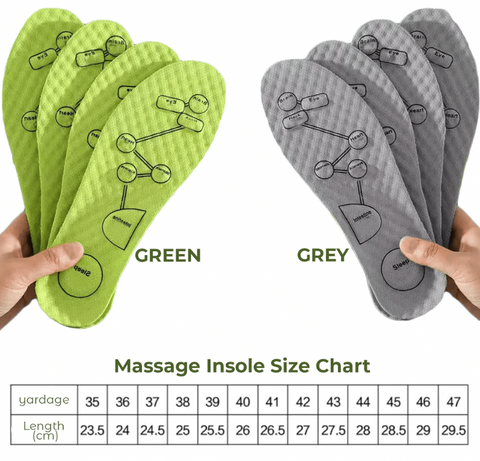 Package Includes
1 x Mr. Feet Inner Circulation Acupoint Massage Insole
What makes Mr. Feet Inner Circulation Acupoint Massage Insole your best choice?
NATURAL PAIN RELIEF : Magnetic Shoe Insoles is created with massage nodes developed after reflexology and acupuncture practices. Every time you step, the shoe insert presses against specific parts of the foot to relieve pain, prevent cramps, and ease tension all over the body

BOOST CIRCULATION : The massage nodes also work in boosting blood circulation. It helps the blood climb back up in your body. Prevents it from pooling in your feet, reduces inflammation, and fights other symptoms caused by poor blood circulation

IMPROVE POSTURE : It effectively reduces pain and makes walking more comfortable to encourage you to stand and walk properly. So besides giving you natural pain relief, Magnetic Shoe Insoles can even help correct your posture

Magnetic Shoe Insoles is great for treating foot ailments and providing you with natural relief while walking. You can wear it every day, during a normal stroll, heavy exercise, trekking, and during a variety of physical activities

It is a flexible shoe insert that is made of flexible silicone material, cooling magnets, and massage nodes that come in varying sizes. Treat your feet with ancient reflexology and acupuncture practices by wearing Magnetic Shoe Insoles
👑ABOUT US
For each piece of our product purchased, we donate a portion of our profit to support the Cruelty-Free International organization, which helps to promote the protection of animals and end animal cruelty around the globe. By purchasing our product, you are supporting our cause to build a more animal-friendly beauty culture. Don't hesitate to contribute your passion for that. 
SHIPPING
We ship worldwide
If you have any questions, please contact our customer servicestaff member for assistance!
OUR GUARANTEE
📦 Insured Worldwide Shipping: Each order includes real-time tracking details and insurance coverage in the unlikely event that a package gets lost or stolen in transit.
💰 Money-Back Guarantee: If your items arrive damaged or become defective within 15 days of normal usage, we will gladly issue a replacement or refund.
✉️ 24/7 Customer Support: We have a team of live reps ready to help and answer any questions you have within a 24-hour time frame, 7 days a week.
Share
View full details
Holy SCHOLLS!
I never write reviews unless it's REALLY bad or REALLY good, and these are INCREDIBLE. INSTANTLY relieved the pressure on my knees, which means even more because I suffer from (Hypermobility) Ehlers Danlos Syndrome. I just got new sneakers that I love the look and convenience of but are not quite as comfy or supportive as I had hoped. These insoles upgraded my shoes to a level I've never experienced in footwear. This combination of shoe and insole will be re-purchased for many years to come. I highly highly recommend for all my curvy queens, especially if they've got HEDS or a baby on the way!! 10/10!!
Happy feet happy wife
My wife always complaining her feet hurting from standing up for long time period especially on her plantar feet until I found this item in Amazon. I bought it and put it into her shoes top top of her current shoes insoles and viola.. she stopped complaining and she said it supports her feet better even though it's not completely remove the pain but at least reduce a lot. She is happy and I am happy. :D
One of the best purchases I have ever made!!
Love these so much!! I've bought insoles many times in the past & they've helped but not like these have. It is so painful for me to be on my feet after years of working in the service industry & I have to wear tennis shoes unless I'm sitting/laying down. My heels & arch have been in constant pain. These insoles are amazing & provide so much comfort! I am a mom of 3 very active children.. being on my feet is necessary & my pain has been so much less & these give me the opportunity to get & feel so much more accomplished because I actually feel good & I am not being distracted or feeling useless because I can't be on my feet.
Fantastic purchase!
I like it so much; I'd buy the same brand for my other shoes again.
I walk 1.5 to 3.0 miles, in the evening, 6 days a week. Prior to using these insoles, my feet would feel uncomfortable within the first quarter of a mile. Once I put in the insoles, WOW! - What a difference! Honestly, there was a major difference from the moment I wore them. They're not like gel inserts - they're not overly soft and cushiony. They are flexible, but the support they offer, especially in the heel and arch, is fantastic.
Sure, there is no perfect "one option cures all" solution, but these insoles are pretty darn close. I'm 5'9" and 210 - mostly muscle, and brisk walk for aerobic exercise.
I definitely recommend these insoles.
24/7 Support

You can reach our support anytime through contact@pop-living.com

Worldwide Shipping

We ship almost everywhere in the world.

100% Satisfaction

We will do everything to make sure you enjoy and love our products